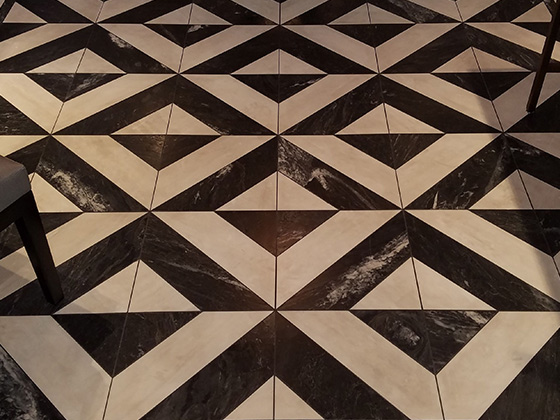 This BEFORE image shows what the marble floor looked like when we first arrived.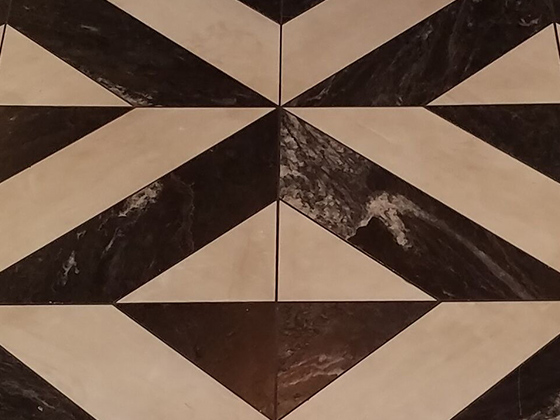 Here is another BEFORE image, for a closer look at the dirt and grime.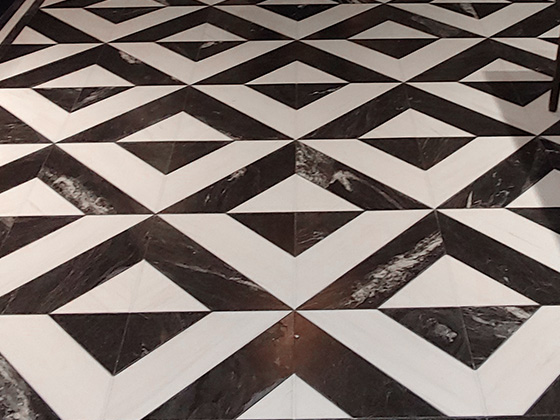 With our marble cleaning and sealing services, this floor looks elegant once again, as you can see in this AFTER image.
Marble Floor Would Not Come Clean
After years of foot traffic and no professional upkeep, this marble floor in a New York City residence had become very dirty. Although the floor was regularly swept and mopped, it never really looked clean. Dirt, grime, and other contaminants had become trapped in and under the grout lines and the textured surface of the stone, and cleaning was just driving the unwanted substances in further.
Our Solution: Deep Cleaning and Sealing
Our normal approach to marble restoration involves honing and polishing, but since this floor had a textured surface, we treated it like a tile and grout floor, using extra precaution to cause no damage to the stone.
First, we pretreated the marble with a stone-safe, pH-neutral cleaning solution. Then, we deep cleaned the tile and grout using floor machine mounted with special brushes, which safely provided the highest level of cleaning possible. Our process removed pollutants from deep within the porous grout lines and thoroughly cleaned the textured finish. Our final step was to apply sealer to inhibit staining.
Our client was very pleased with the dramatic difference our services made.
To learn more, visit our Marble and Limestone Services page.
---
Are you looking for marble floor restoration services? For a FREE estimate throughout the NYC, NJ, and CT area, contact us online or call (718) 389-9150.