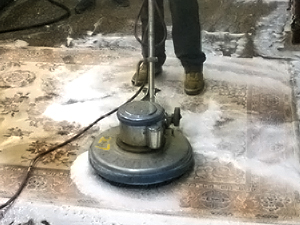 Area Rug Cleaning and Repair / NYC, NJ, CT
SAFE, EXPERT FINE RUG CLEANING AND REPAIR
PROVIDING RUG CARE IN THE NYC AREA FOR MORE THAN A CENTURY
Since 1917, we have owned and operated one of the largest and most modern rug cleaning plants in the United States, specifically designed for the cleaning, repairing and restoration of fine area rugs. Our radio and GPS monitored fleet of trucks will pick up your area rugs, repair and restore them if you wish, and return them to you.
Complete Rug Cleaning Service
As New York's largest carpet cleaner, we have the specialized equipment and knowledge to properly clean any type of rug from valuable Oriental rugs to custom made to domestic. Whether your hand made rug is wool, silk, braided, needlepoint, or dhurrie, KINGSWAY provides expert cleaning in our facility.
Our professional technicians are educated and trained to know what cleaning procedures and solutions are appropriate for your specific type of rug, considering its fibers, dyes, and construction, as well as the age and level of soiling.
First, schedule a day and time for us to pick up your rug. We strive to accommodate the schedules of our clients to minimize inconvenience. You can expect our uniformed, professional two person crew to arrive on time. They are insured, bonded, and background checked.
At our plant, we carefully examine your rug to determine the best method of cleaning. We take a digital photo before beginning any work. If any repairs are necessary, we will call you with an explanation and estimate. During the pre-inspection, we identify areas with heavy soiling, damage, or any potentially permanent stains.
We thoroughly clean your rug on our specially designed platform. Our cleaning process begins with a pre-vacuum to remove any loose soil. We also pretreat stains and spills to emulsify problem areas. Our deep cleaning methods extract soiling and contaminants and cleaning and combing fringes. We thoroughly rinse to remove detergents, leaving your rug fresh and clean with no sticky residues.
After cleaning, the area rug is dried in a climate-controlled dry room. Proper humidity and temperature control play an important part in the freshness of your rug.
Once your rug is completely dry, we give it a final vacuum to fluff up the fibers and a final inspection. If it passes our quality control check, it is rolled and wrapped in heavy paper to await delivery on a day and time that works with your schedule.
Optional Services
For an additional cost, we provide a variety of after-care services. We offer a special service to remove any odor from a urine-stained rug. You have our guarantee that if any odor remains, there will be no charge for this service.
We also offer re-application of protective treatment to help give you time to clean spills before they turn into stains and to make regular vacuuming more productive. We are licensed applicators of Scotchgard from 3M.
Other after care services include deodorizing, mothproofing, anti-microbial treatment, and dust mite treatment. If desired, at additional charge, our delivery crew will carefully spread your rug on your floor.
The entire process, from the day you first contact us to the day we deliver your clean rug, normally takes 14 days. Upon request, we may be able to expedite services. Alternatively, if you need us to store your rug, we have secure facility and can make arrangements with you. Rugs are inspected and mothproofed annually. Additional valuation is available.
KINGSWAY calls each client to ensure your complete satisfaction with our fine rug cleaning service.
Details On Our Oriental Rug Cleaning
Oriental rugs should be professionally cleaned every two to four years. KINGSWAY uses a process that includes hand washing fine rugs with soap created specifically for wool. Automatic machines are not used. Cleaning detail is given to the fringe as well. Depending on the size of a rug, it is then either rinsed in a large extraction machine or rinsed by hand. After rugs are cleaned, they are hung in a climate controlled dry room where low heat and dehumidified air allows them to dry slowly – without harming the natural lanolin in the wool. A final, thorough vacuuming and inspection completes the process. All rugs are insured.
Rug Repairs
Old world artisans perform expert repairs and restoration of all types of domestic, imported, custom, and Oriental rugs.
Refringing, binding, or sergeing, either by hand or machine.
Reweaving.
Repairing of missing or worn areas – either by rebuilding the foundation or inserting a suitable replacement.
Altering rugs to your specifications.
Replacing backing of rugs.
Blocking, sizing, and latexing backing of rugs.
Rug Repair Video
If an area rug requires repair, we consult with our customer as to the options available. We can perform a variety of hand repairs for fine imported area rugs, such as hand serging seen here. We also offer machine binding, as illustrated in this video.
We offer a complete line of area rug repair and restoration services which are performed by old world artisans.
---
Our Carpet and Textiles Care page has helpful tips for cleaning spills and regular maintenance, as well as a free, downloadable Carpet and Textiles Care Guide.
Are you looking for area rug cleaning or repair services in the NYC | NJ | CT area? Contact us online or call us at (718) 389-9150 to discuss your needs.