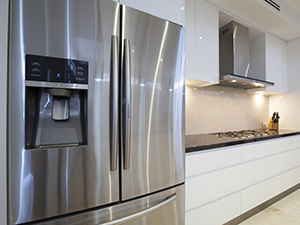 Stainless Steel Polishing / NYC, NJ, CT
STAINLESS STEEL CLEANED AND POLISHED
Stainless steel is beautiful until it gets scratched… or discolored, or rusted or heat scorched.
While remarkably durable in many respects, stainless steel surfaces are nevertheless fairly soft and fragile.
Removing damage from these surfaces, along with restoring and maintaining them, will significantly help to prevent the costly endeavor of removing and replacing these stainless steel features.
The sleek, shiny sophistication of stainless steel is one of its most attractive features. So when a stainless steel appliance becomes dirty or marked, it seems to lose much of its value. Restoring stainless steel can cause trepidation, because rough treatment can mar its bright shine. But the proper tools and a gentle touch make caring for stainless steel much less worrisome.
Our methods are trusted and recommended. We can solve many stainless steel surface issues that you may encounter.
---
DOES YOUR STAINLESS STEEL NEED TO BE CLEANED AND POLISHED? Reach out to KINGSWAY, the surface care experts. Send us a message or give us a call at (718) 389-9150.