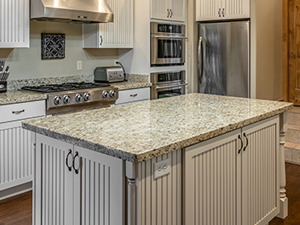 Marble and Granite Countertop Restoration and Protection / NYC, NJ, CT
Countertop Cleaning, Repair, Protection
From restoring your countertops to like-new, to seriously protecting them from stains and etching…
Consider KINGSWAY your source for stone countertop solutions.
Have your natural stone countertops, vanity tops or table tops lost their shine? Are they stained, scratched, etched, chipped, or otherwise damaged? Are they darkening when they get wet?
Your countertops, vanities and table tops may see daily use and abuse, but they don't have to look that way. We can repair, clean, polish, and restore marble, limestone, travertine, onyx, soapstone and other stone tops to like new, and protect them to keep them looking that way. Our technicians can not only resolve virtually any problem with your stone tops, but provide education in the appropriate care information for your specific needs, as well. View case studies to learn more about the types of issues we can resolve and the results you can expect.
---
Ready to get your countertops, vanity tops, or table tops restored to like new and protected? Contact us today to schedule your free stone evaluation.