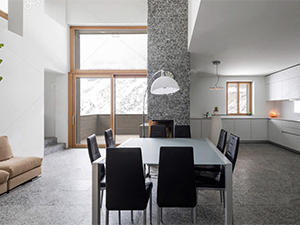 Granite Repair and Restoration / NYC, NJ, CT
GRANITE HONED, POLISHED, AND ELEGANT
Granite requires specialized expertise to restore.
Granite is an ideal choice for high-wear commercial floors and kitchen countertops, because it is such a hard surface. However, if it becomes scratched and dull, it is not easy to restore. Many stone restoration contractors won't touch it. The professional technicians at KINGSWAY are experienced in stone restoration and thoroughly educated and trained in identifying and resolving problems with granite. Whether you need us to restore the finish or provide regular maintenance for your granite countertops, floors, or other surfaces, we can resolve virtually any problems that may occur. We can hone, polish, repair cracks and chips, remove topical coatings and stains, and can also determine whether your granite needs to be sealed to protect it from staining.
Residential Granite Services
Do you wish that your granite countertops and other surfaces still had the beautiful finish they had when they were first installed? Although granite is a very hard and durable surface, improper cleaning products, among other things, can diminish its pristine finish over time. The good news, is that we can restore the brand-new look to your granite.
Unless your granite slab was resinated as part of its manufacturing process (not common prior to 2003), your granite should be sealed periodically to maintain stain resistance. We use only high-quality sealers to give your granite a shield of protection to inhibit all kinds of stains.
Commercial Granite Services
Do your granite floors have dull spots or scratches near doors, in elevators or in other high-traffic areas? KINGSWAY provides commercial granite services, removing scratch damage and feathering the floor to blend the finish without creating a dip in the surface. We expertly restore the smooth, elegant appearance of your granite floors.
We can remove granite floor stains and topical coatings that only detract from the beauty of your granite floors and seal your granite with a high-quality impregnating sealer that will give you years of stain protection. While many stone restoration companies will not take on the challenge of granite floor maintenance, KINGSWAY does so routinely. If we are maintaining your floor regularly, we guarantee you will NEVER have to have them restored again!
Visit our Gallery to view examples of our work cleaning, repairing, and restoring natural stone.
---
For a free estimate or to schedule granite honing, polishing, and sealing services in NY, NJ, and CT, contact us online or call today (718) 389-9150.