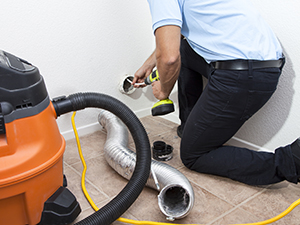 Dryer Vent Cleaning / NYC, NJ, CT
RESIDENTIAL AND COMMERCIAL DRYER VENT CLEANING
clogged dryer vents cause fires
According to the National Fire Protection Association, over a four-year period there was an estimated average of 15,970 home structure fires involving clothes dryers or washing machines each year. The vast majority of fires (92%) involved clothes dryers. The leading items first ignited in dryer fires were dust, fiber or lint (26% of total).
Signs Your Dryer Vent Needs Cleaning
With clean dryer vents, the air flows properly. In one cycle, your clothes become completely dry, and when you pull them from the dryer, they feel warm and smell fresh. There's a normal amount of lint in the lint trap, and the temperature in the laundry room is normal. When dryer vents are clogged, you will experience quite the opposite. Your clothes may feel too hot and may not become fully dry in one cycle. The lint trap will be very full, and your laundry room may be warmer than it ought to be. You may notice a burning smell.
Our Dryer Vent Cleaning Service
First, we visually examine your system for any damage or obstructions, such as bird nests, socks, dryer sheets, and the like. Then, we perform an air flow test.
We achieve effective cleaning results by utilizing our vacuum and rotary brush system, which thoroughly extracts and recovers dust and debris lodged in your vents. Our cleaning process includes the area surrounding your dryer, as well as the intake and exhaust vents of the dryer itself. Once your vents are clean, we apply a hospital-grade bactericide for maximum sanitation and make sure everything is properly reconnected.
Our final step is to perform a second air flow test and then compare the results to those of the first test.
Commercial Dryer Vent Cleaning Services
We provide dryer vent cleaning services for carpet cleaning companies, hair salons, hospitals, laundromats, schools, fitness centers, vet and pet care facilities, and other any clients who use dryers.
Did you know?
Most people are aware that lint should be removed from the lint trap after every use. But did you know that from time to time you also need to wash your lint trap? Remove the lint trap. Use a soft brush, dish soap, and water to clean your lint trap. Rinse it thoroughly and allow the lint trap to dry completely before replacing it.
Dryer vents should be professionally cleaned every twelve months.
---
For a FREE estimate or to schedule services for professional dryer vent cleaning, use our online form or call us at (718)  389-9150. We service the NYC, NJ, and CT area.