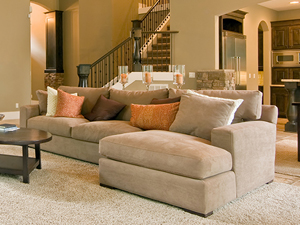 Carpet and Fiber Protection / NYC, NJ, CT
FIBER PROTECTION
FABRIC PROTECTION IS PROACTIVE CARPET AND FIBER CARE
Life is messy. No matter how careful we try to be, stains and spills happen on carpets, area rugs and upholstery.
Choosing to apply fabric protection is the best possible way to protect your new carpet, rugs, and upholstered furniture and to keep it looking new. Treated textiles will last longer, look better for longer, and clean easier. Without protection, spills, dirt, and grime can become permanent stains.
We apply a non-allergenic, odorless spray to all surfaces of the carpet, rug, or upholstered item. The application 'wicks' into the fibers of the fabric creating a protective barrier against soil and stains.
Fiber and fabric protection treatments neither change the look nor change the feel of the fibers and fabric.
Reapplication of Carpet Protection
New residential carpets are treated with stain resist properties and soil resistors known as Dupont Teflon or 3M Scotchgard™. After a period of 2 to 3 years, this treatment begins to wear off. We are a licensed applicator of 3M Scotchgard™ and can re-apply the treatment after professional cleaning. The soil resistor will help the soil slide off the carpet easier with vacuuming, spots will be easier to remove, and professional cleaning will be more effective.
Did you know?
Not only does a fiber or fabric protection treatment create a barrier against stains and spills, it has been shown to provide a barrier against abrasive dirt and dust particles that cause premature wear.
---
If you are in the NYC, NJ or CT area, contact us online or call (718) 389-9150 to ask questions or schedule carpet and fabric protection treatment.