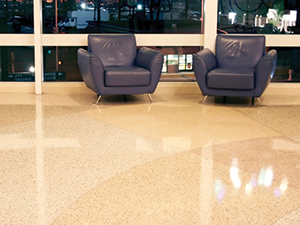 Terrazzo Polishing / NYC, NJ, CT
NATURALLY POLISHED TERRAZZO
Stripping and Waxing Over and Over… There's a Better Way
Terrazzo is commonly, but inappropriately treated with layer upon layer of coatings to make it shine. Then, when these layers became discolored, scuffed, and dirty-looking, the terrazzo requires stripping and the perpetual cycle begins. Our customers have discovered that with professional restoration, a beautiful, natural shine can be achieved that is easy to maintain  and the costly cycle of stripping and waxing is eliminated.
We are terrazzo experts.
The professional technicians at KINGSWAY are expert stone restorers, thoroughly educated and trained in identifying and resolving problems with terrazzo. We can restore your terrazzo floors, honing and polishing away most stains and damage surface to reveal the brand new surface hidden underneath. We can achieve a gloss or matte finish and you'll see the little specks of marble glisten once again .
Visit our Gallery to view examples of our work cleaning, repairing, and restoring floors.
---
For a free estimate or to schedule terrazzo cleaning, polishing, and sealing services in NY, NJ, and CT, contact us online or call (718) 389-9150.