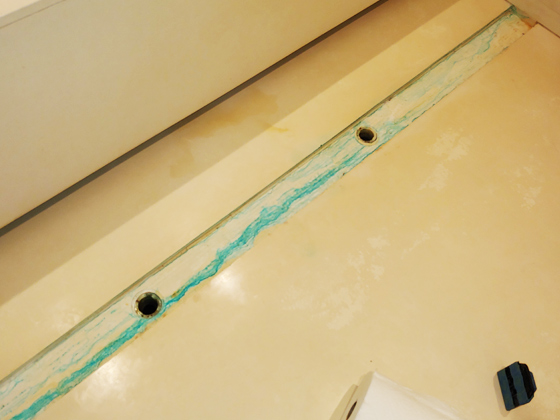 Notice the blue stain on the limestone.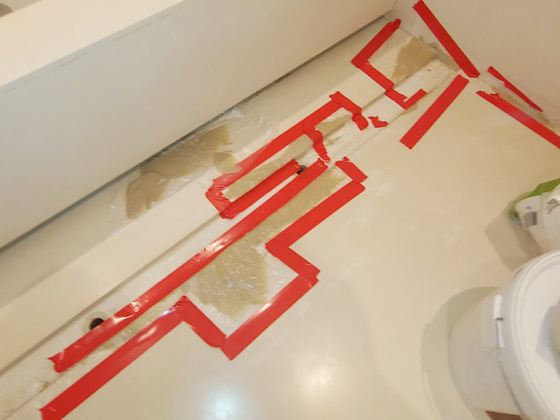 This image shows the poultice we applied to the limestone.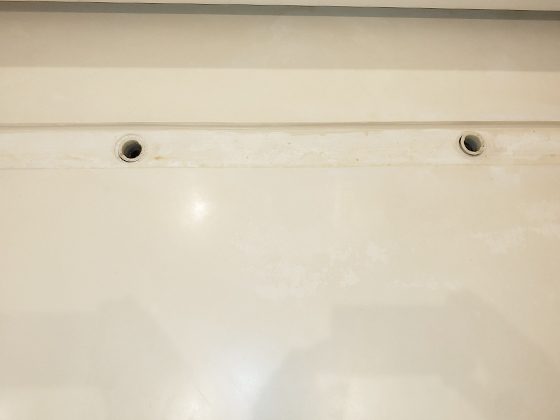 Here is the area that used to have the nasty blue stain. What a difference!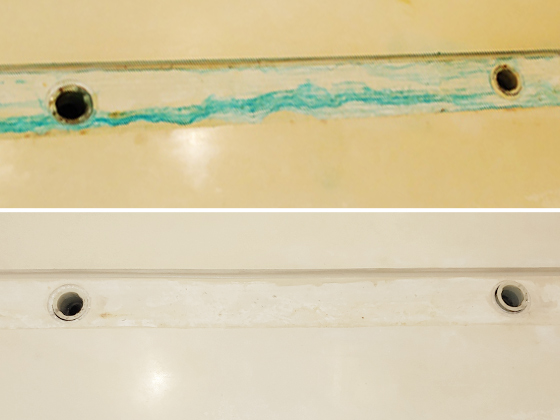 This BEFORE (top) and AFTER (bottom) image really demonstrates the dramatic results we achieved.
Blue Dye Stained Limestone
Homeowners in New York City contacted their property manager when their limestone shower stall floor developed a leak. The building superintendent used a blue dye to find the leak, not realizing that the dye would be absorbed into the limestone and leave behind a stain. After attempting to remove the stain without success, the superintendent called us to find out whether it could be removed, otherwise he would have to replace the stone for the homeowner.
Our Limestone Stain Removal Process
First, we cleaned and honed the limestone, which lightened, but did not completely remove the stain. Next, we applied a poultice to the stained areas. A poultice is a cleaning or chemical solution mixed with an absorbent medium, such as powder, paper, or a gel. We allowed the poultice to dwell for several days to draw out the stain. We removed the poultice and used stone-safe pH-neutral cleaner to remove any poultice residue.
The property manager was thrilled that we were able to remove the stain and help him avoid the hefty cost of replacing the limestone.
To learn more, visit our Marble and Limestone Services page.
---
Are you looking for limestone restoration services? We service the NYC, NJ, and CT area. Contact us online or call (718) 389-9150.