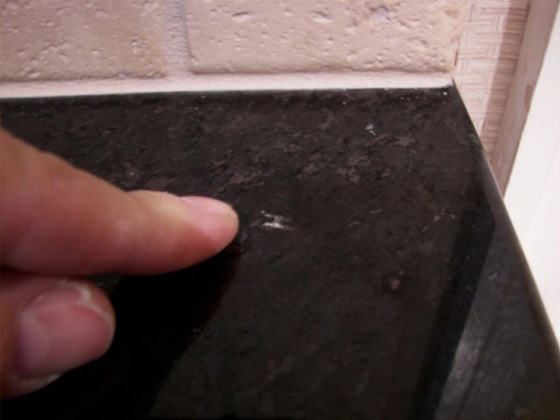 Granite Isn't Impervious To Damage
Granite surfaces add elegance to any space, creating a polished first impression. Granite is a very durable stone, however, with time and use, especially in high traffic areas, wear and tear can become apparent. Chips, stains, cracks, or just a dull, worn look can diminish the appearance of granite.
Granite Can Be Restored To Like New
As you see in these images, granite can be repaired, restored and refinished to look as good or better than the day of installation. Fabra-Cleen can restore your chipped, etched, scratched, or otherwise damaged granite. Our professional technicians adhere to the highest standards in stone restoration, from cleaning and polishing to honing, grinding, and sealing. Don't replace your granite, instead, contact us to repair, maintain, and protect your granite.
To learn more, visit our Granite Restoration Services page.
---
For a free estimate on granite countertop repair and polishing, as well as restoration services for granite floors and other surfaces in NY, NJ, and CT, contact us online or call today. We have 3 numbers to choose from 212-777-4040 | 718-776-3564 | 516-377-0993.